Marination Recipe Update
As of January 1, 2023, the new directions for mixing Chickite marinades will be 2/3 dry measuring cup per gallon of cold water for the trademark marination process for Genuine Broaster Chicken.
What does this mean?
The 6 oz. plastic marination cup will be removed from all marinades.  The instructions on the outer cases will be revised to read: Dissolve a 2/3 cup (using a dry measuring cup) per 1 gallon of cold water…".  Our objective is to establish consistency on the flavor profile of Genuine Broaster Chicken across the country and to address the sodium opportunity.  In addition, all other non-Genuine Broaster Chicken recipes will move to the same recommended recipe. The below label will be added to marinade cases as a recipe aide.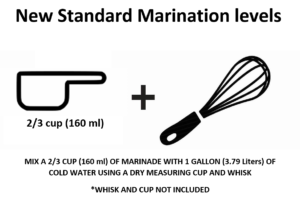 Downloadable Resource Materials
Job Aid – Back of House Marination, Boneless
Job Aid – Back of House Marination, 8 piece Bone-in
Background
The past several years, Broaster Company's Food Innovation Department has been evaluating various levels of Genuine Broaster Chicken marination for the back-of-house static marination recipe.  This has been in response to continued feedback on high sodium levels and current published nutritional data showing higher sodium per serving compared to the competition.
In addition to our in-house team, Broaster enlisted the services of accredited third-party laboratories to validate both taste and nutritional results.  Careful testing was performed to ensure no noticeable impact on flavor, moisture, and overall taste of Genuine Broaster Chicken.
FDA will soon be issuing final guidance for reducing sodium due to health concerns for the American population.  Broaster Company's reduced sodium recipe action will allow Genuine Broaster Chicken to fit within the anticipated guidelines.
Questions?
If you  have any questions, comments or concerns please email us: broaster@broaster.com