Broaster® Company Provides Fazoli's with Fryer Equipment for New Wing Launch

Beloit, WI (June 14, 2021) – Broaster® Company, an industry leader in branded food concepts and manufacturer of high-quality foodservice equipment, has announced its partnership with Fazoli's to support the brand's launch of wings by providing locations across the country with their VF-3 Ventless Fryer equipment.
Fazoli's is offering wings as part of its core menu, available for dine-in, drive-thru, online ordering and delivery. Broaster's SmartTouch™ VF-3 Ventless Fryer is the equipment of choice for this new core menu item and is being used in all 220 Fazoli's locations and quickly growing in 28 states. The fryer currently facilitates in offering perfectly cooked, bone-in and boneless chicken with plans to use the fryer for other menu items in the future.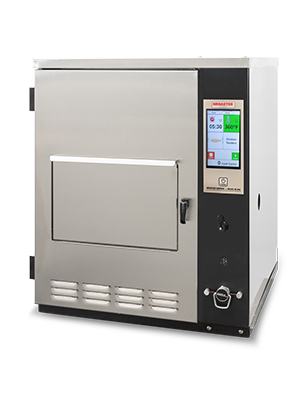 The Broaster® SmartTouch™ Ventless Fryer—VF-3—is an easy-to-operate fryer built for convenient food production. With the ability to cook up to 3 lbs. of food per load, the space-saving fryer boasts a full-color touch screen display programmable for up to 100 menu items, has a unique Auto-Comp feature that automatically adjusts cooking time and does not require a hood.
"When it comes to providing equipment for perfectly cooked chicken, Broaster has mastered the technology for restaurant operators, taking the guess work out of cooking chicken consistently and efficiently," says Jay Cipra, President & CEO of Broaster.  "Our VF-3 Ventless Fryer simplifies the cooking process with state-of-the-art technology, giving operators the ability to perfect efficiency and consistency in the kitchen."
Fazoli's corporate locations adopted the VF-3 fryer in October of 2020, with all other franchise locations currently rolling out their wings using the Broaster Company equipment.
"We are very excited to debut wings," says Fazoli's Director of Culinary Innovation Rick Petralia. "Though we are an Italian brand, we wanted to expand and explore new ways to innovate our menu to provide guests with something they'd never expect from us. Our team has been working very hard to perfect our wing recipes, testing and evolving sauces to provide the best variety and flavor for our guests. This is only the beginning, and the new equipment opens up even more possibilities to continue to innovate and enhance our menu."
With more than 65 years of experience and thousands of operators worldwide, Broaster Company leads the industry in equipment technology and chicken innovation.
To learn more about Broaster Company and how to add their new chicken sandwich to your menu, visit www.broaster.com.
About Broaster Company
Broaster® Company has been the leader in manufacturing high-quality Pressure Fryers, licensed branded programs, delicious foods and specialty foodservice equipment to the industry for over 65 years. Headquartered in Beloit, Wis., Broaster markets its products through a responsive global network of authorized distributors. The company also markets and licenses its Genuine Broaster Chicken® product and the Broaster Express® food program worldwide to a wide range of foodservice operations.
The Broaster name is synonymous with quality and continuously earns that reputation with durable equipment manufactured in the USA by a skilled team of craftsmen. Broaster Company is committed to providing the most efficient, durable and easy-to-use equipment the industry has to offer. Their patented round cooking well and highly efficient heating process mean more dollars in an Operator's pocket compared with competitive equipment. Their equipment is proven, every day, in thousands of kitchens and foodservice establishments worldwide, and you can count on Broaster Equipment to deliver quality results, fast.
About Fazoli's
Founded in 1988 in Lexington, Ky., Fazoli's owns and operates nearly 220 restaurants in 28 states, making it the largest premium QSR Italian chain in America. Fazoli's prides itself on serving premium quality Italian food, fast, fresh and friendly. Menu offerings include freshly prepared pasta entrees, Submarinos® sandwiches, salads, pizza and desserts – along with its unlimited signature breadsticks. Fazoli's is the winner of FastCasual and Steritech's 2020 Excellence in Food Safety Award and was named one of the "Top 50 Global Fast Casual Innovators in 2021" by Foodable, a "Top 200 Franchises in 2021" by Franchise Business Review, a FastCasual "Brand of the Year," and an Entrepreneur 2018 "Franchise 500." CEO Carl Howard was named among the most influential restaurant CEOs in the country in 2020 by Nation's Restaurant News, was recognized as one of the top 25 industry leaders on FastCasual's 2021 Top 100 Movers and Shakers list, and he and his team were recipients of the 2021 American Business Awards Gold Stevie Awards in Food & Beverage for Company of the Year, Achievement in Management and Human Resources Team of the Year.