Broaster Means Frozen To Fryer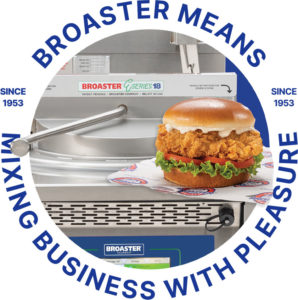 Broaster Foods offers you the finest quality marinated and breaded frozen chicken prepared by the same company that brought you world famous Genuine Broaster Chicken® more than 65 years ago. Broaster Foods is a top choice to meet your foodservice needs, providing restaurant quality products that your customers expect when dining out.
Always cut directly from the breast, marinated and breaded, par-fried then frozen for quick and easy preparation at your establishment, you won't find any formed or pressed chicken products in the Broaster Foods portfolio.
The Broaster Foods frozen portfolio offers a full line of appetizers, seafood, side items and many other products. It's an unbeatable line-up of high quality deliciousness that will keep customers coming back again and again.
Ask about Broaster Foods at your local Broadliner; Performance Food Group, CoreMark, or fill out the form below and we would be happy to direct you.