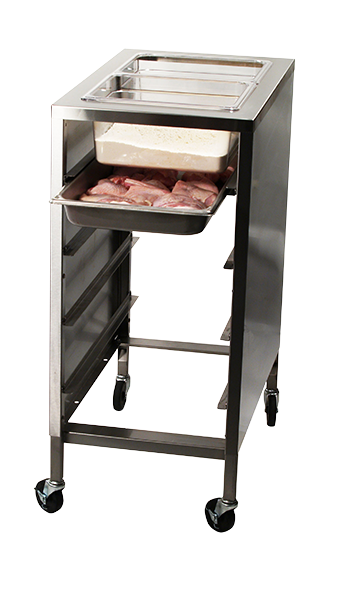 Broaster Prep Station
85966 Extra Crispy Prep Station
This prep station features a smaller footprint, allowing you to put this prep station almost anywhere. It could be put right on the line or be rolled back into a walk-in refrigerator to refrigerate the coating and slurry. The prep station is also complete with two tray slots for additional pan storage.
Includes: One basic station, four swivel casters two locking
Options: 12 quart bucket & lid, holding pans
85405 Extra Crispy High Volume Prep Station
This prep station is designed for a higher volume operation or an operation that is looking for more efficient use of their breadings. The prep station has a built-in sifter which allows you to sift breading into the lower container, thus giving you more efficient use of your breadings. The containers also include lids to help reduce the risk of contamination. The extension shelves on this unit make
it easier to bread and load product into the Broaster pressure fryer.
Includes: One basic station, two extension shelves, one pan shelf, rotary sifter, two 12.5 gallon tubs, one caster kit, four swivel casters two locking
Options: Leg kit, right side shelf without hole, 12 quart bucket & lid
CONTACT FOR A QUOTE
Standard Features
Convenient and Easy To Use – stainless steel prep stations help to make your breading process more productive giving you a mobile area to prepare your Extra Crispy Broaster Chicken® or Genuine Broaster Chicken®.
Minimize Waste – by controlling your breading usage.
Sturdy and Durable – stainless steel work surfaces are easy to clean after each use.