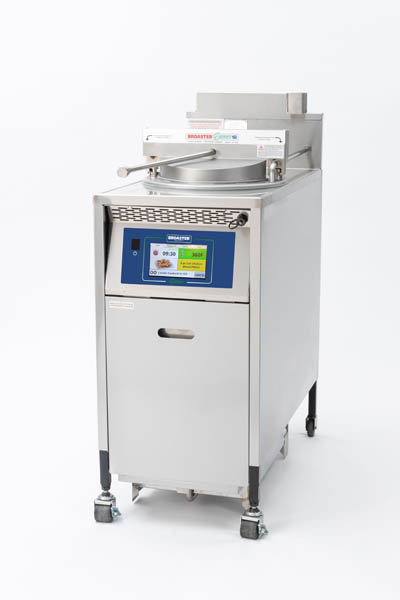 E Series 18G
Now your back-of-house efficiency can be Simply E-Mazing!
The E-Series gas-powered pressure fryers allow operators to more easily manage back-of-house labor while providing customers with notable moist and flavorful chicken that is superior to regular open frying.
With less time spent operating, training staff, cleaning and maintaining the equipment, the E-Series is the solution that operators are looking for to add value to their cooking lines.
Energy Efficient in Every Way
The gas-fueled E-Series 18G boasts the highest-level energy efficiency offering a 50,000 BTU/HR efficient burner system, which as compared to the current Broaster 1800 model is greater than 23% less gas usage.
Oil Filtration Between Cycles
Another labor saver is the E-Series automatic quick filtration cycle that starts after each cook cycle.
Advanced Filtering Technology
The E-Series allows the use of a reusable, high-capacity filter that eliminates the need for daily filter paper handling. Another time savings!
Auto Controlled Pressure Release
At the end of the cook cycle, the built-up pressure in the cooking well is automatically released. There's no need for operator interaction.
Onboard Oil Replenishment
The E-series has the ability to add oil directly from an onboard oil reservoir or bulk oil system. This reduces the time and labor costs of manually handling oil.
Why Choose the E-Series
Featuring a range of innovative features, the Broaster E-Series raises the bar with its intentional design. By enhancing energy-efficiency as well as utilizing smart technology, our E-Series fryers work to greatly reduce or eliminate many of your operational pain points.
The E-Series 18G is the first of several models to be offered in this premium line of pressure fryers from Broaster Equipment.
CONTACT FOR A QUOTE
Standard Features
Triple-redundant safety system is featured consisting of a chrome plated relief valve, a stainless-steel splash guard and a single action patented cam lock cover system.
To ensure operator convenience and safety, unit features a pressure activated cover-locking mechanism and the SmartTouch Controller which integrates an automatic pressure regulator valve, exhaust valve, and drain valve interlock.
Standard setup includes on-board oil replenishment for easy oil addition.
Available bulk oil handling connections eliminate the need for employees to handle heavy oil jugs and dispose of hot oil.
Unique stainless-steel basket with a ratchet-style removable basket handle allows easier unloading of product.
Additional Features
Specifically designed for high volume production, cooks up to 32 pieces of fresh bone-in chicken per load in as little as 11-12 minutes.
Unique Auto Comp feature automatically adjusts cooking time to accommodate for varying sizes and temperatures of loads.
Perfect for all your fried chicken cooking needs, including hand breaded tenders.
Primary construction is of stainless steel built on black powder-coated steel frame with front and rear casters for mobility and ease of cleaning.
Proven round cooking well design engineered for more uniform heat distribution, durability and efficiency; no cold spots or corners. Large capacity provides more room for product, minimizes sticking and produces delicious, superior quality food.
Fully welded cooking well is made from durable 300 series stainless steel.