Fried chicken and doughnuts?! The best combo.
Alvernon Donuts isn't the kind of place that holds Instagram campaigns or buzzworthy events with stylish people wearing photographable hats.
The old school doughnut shop has been holding it down for decades, out there on a quiet restaurant strip near Davis-Monthan Air Force Base. Owner Neang Pheng and her husband Poe Kem bought the place in 2003, decorating the funky old building with leafy plants and pictures of their native Cambodia, which they escaped as refugees to avoid the Khmer Rouge.
After all these years of hard work frying doughnuts at wee hours of the morning, a sign has emerged … two of them actually, posted prominently next to the front door: "Always fresh, tender and juicy. Genuine Broaster chicken. It's incomparable!"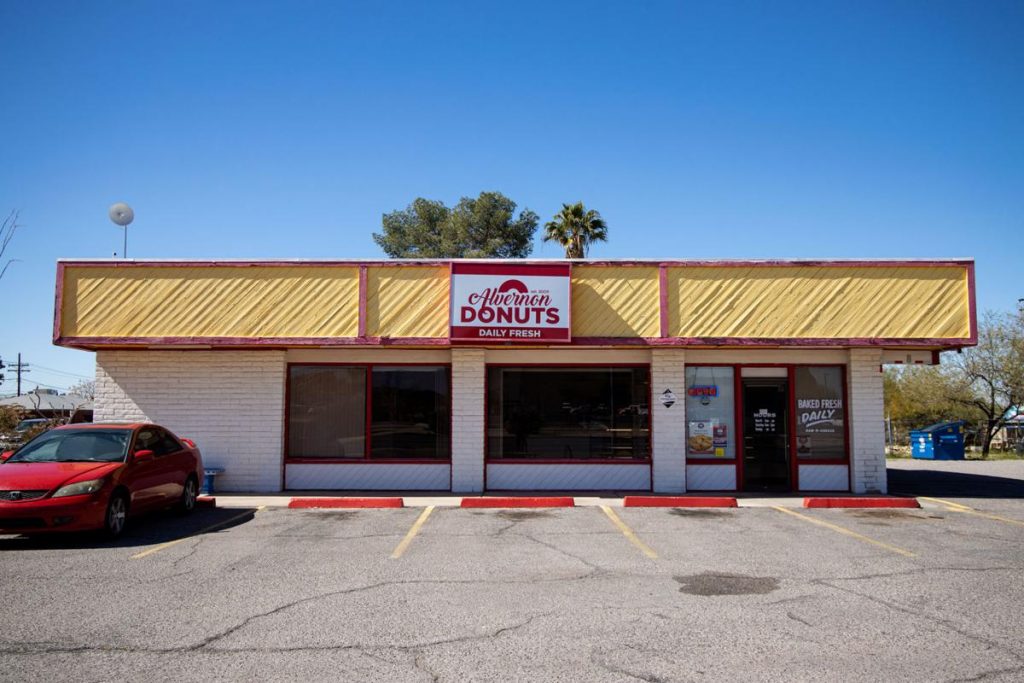 What's "Broaster chicken," you may ask? (Not out loud, but silently in your mind.) It's actually a very common style of fried chicken, most notably used by fast-food giant KFC. The chicken is fried in a sealed pressure cooker, which results in less grease and is said to be healthier than your typical fried chicken. More importantly, it helps keep the chicken moist and gives the crust that indefinably wonderful, addicting, crispy crackle.
But KFC actually isn't allowed to call their chicken "broasted," because that name is trademarked by the inventor of the machine … a Wisonsin-based company that just happened to make this very special sign. You've probably never heard of this company, aptly called Broaster, but they license their products out to more than 5,000 businesses across the U.S., and are also very popular in the Middle East and South America.
With encouragement from her younger sister, Neang decided to bring back the broasted chicken in January after a several-year hiatus. "It's really popular," she says. Neang prepares a large batch of chicken every morning so that it's ready to go by 10 a.m., using a special marinade and batter provided to them by Broaster. (She's also experimenting with new recipes that combine the chicken tenders and doughnuts into one sweet sandwich, so feel free to ask about that too.)
When I inquired about the chicken, she brought out two large pieces of computer paper with all the possible combinations: 4 pc breast, wing, leg, thigh; 2 pc thigh/wing, 12 pc chicken tenders, macaroni, potato salad, etc. You can definitely make a meal out of chicken and various sides, but I decided to pair the savory with the sweet. In addition to my leg and thigh, I ordered a glazed doughnut with pink frosting for the 'gram, and a blueberry cake doughnut for myself. I went wild on the honey mustard, barbecue and hot sauce, forgetting to even touch the Sriracha.
After trying it IRL for the first time, I now understand why chicken and doughnuts have achieved social media stardom. When the world got hip to Southern chicken and waffles in the '00s, a portal opened leading us to a new flavor dimension. I would like to call this dimension "salty sugar crackle," but the physics of it are still in their theoretical stages.
Chicken and doughnuts takes us further down this wormhole, leading to a delicious utopian fantasyland where maple syrup ceases to exist. In this new, uncharted universe, your mouth can pilot through a juicy chicken thigh encased in a salty crunch of fried skin and then sail through a nebula of soft sweet dough … and nothing gets soggy. It is, in fact, one of mankind's greatest discoveries.
But there are actually two places in Tucson that serve this Broaster chicken and doughnuts dream team. The other one is Queen Donuts in the far southwest side community of Old Tucson Estates, where people ride golf carts around shopping centers pierced with red rock mountain buttes.
Not to be confused with the former Queen Donuts on St. Mary's Road, this little shop is run by Neang's brother Sar Oum and his wife Sue Kan. They've been serving Broaster fried chicken since they started 18 years ago. During my recent lunchtime visit, the place was packed with groups of people talking and ripping into their chickens. I watched Sue bring out a fresh batch of breasts straight from the broaster, piled high.
I paired my thigh and leg with a buttermilk bar, which also kind of looked like a chicken … but tasted like sweet breakfast cake. An older man sitting in the booth next to me started to chat and asked if I needed a dentist. That's probably a good idea at this point, I thought. He gave me his card in the parking lot, and we shook hands, sealing the deal with sugar and fried chicken grease. But in an awkward twist, his hands were clean because he washed them before he left the shop. Sorry man! Chicken-handed again …