How to Start a Food Truck with Broaster Company
As the saying goes, "the only constant…is change." For the food truck industry, changes in consumer preferences have spurred on this free-wheelin' business model to become a $1-billion industry (that's billion with a "b").
Particularly popular with Millennials, who love to order delicious, specialty foods that fit into their budgets and on-the-go lifestyles, food trucks are one of the best-performing segments in food services, according to IBISworld reports.
But as appealing as food trucks are for consumers, what's in it for entrepreneurs and how does someone start a food truck business, anyway? We're glad you asked…
The Appeal of Food Truck Ownership for Entrepreneurs
Overall, there are plenty of benefits to starting your own food truck, from low startup costs to tax advantages and more.
Low Startup Costs
In an article by Forbes Magazine, it's estimated that the average food truck business's startup costs will reasonably be in the range of $70,000 to $80,000.
This may seem like a lot at first glance, but if you compare it to a small brick-and-mortar quick-service restaurant…food trucks definitely have the advantage.
Mobility
The ability to pick up your business and go is incredibly valuable, especially as you're getting your food truck business up and running.
During times of economic recession (or pandemic when sit-down restaurants are shuttered), the mobility of operating a food truck allows you to experiment in order to find peak demand times/locations.
Tax Advantages
Owning a mobile restaurant has a wide variety of tax-deductible expenses as well – ranging from purchasing new equipment, managing business costs like insurance or association membership dues, or keeping track of vehicle/travel expenses.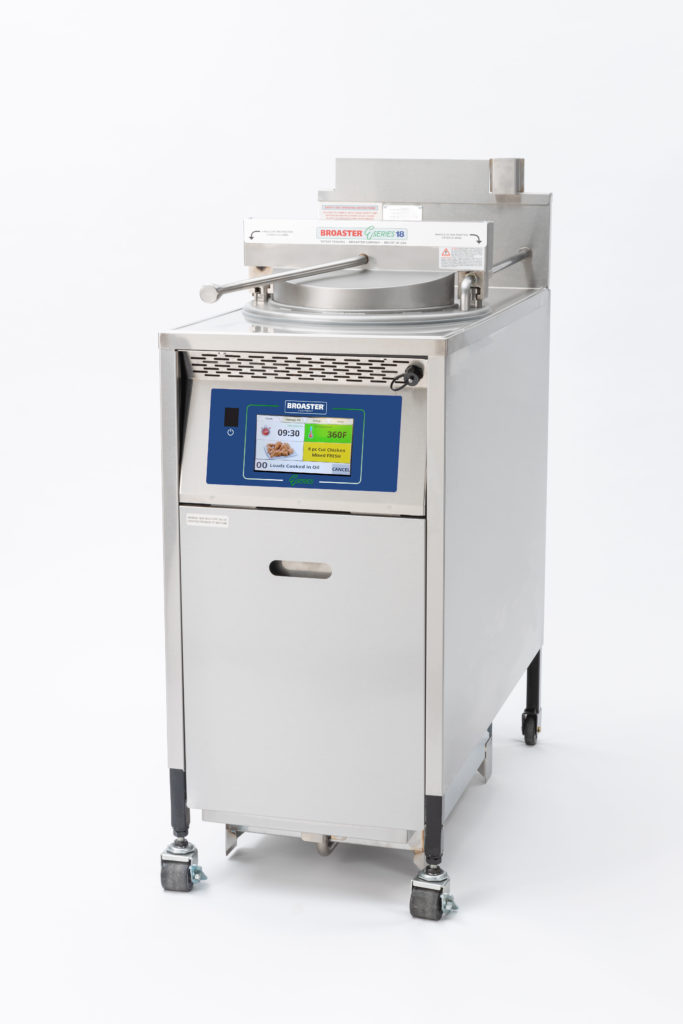 Get Your Food Truck Business Off the Ground with Broaster
Eager to get your food truck up and running? Start by becoming a licensed Broaster operator. Our turnkey food programs help you find the right cooking equipment, customize your food menu, and provide additional support where you need it most.
1) Purchase the Right Cooking Equipment
Broaster provides two primary categories of food service equipment that are ideal for food trucks.
The first is our Broaster 1600 or 1800 model pressure fryers, which come in electric or gas. These state-of-the-art fryers are smaller, compact, yet extremely versatile, so you can save precious kitchen space while utilizing the equipment for a variety of food products.
The second is our Smokaroma pressure smokers, which also have a small footprint. Combining modern pressure frying and smoking technology, our electric smokers can smoke up to 45 lbs. of ribs in under 90-minutes.
2) Select Your Menu Items
There are plenty of delicious Broaster food items to consider as you begin customizing the menu for your food truck, but we're only going to highlight the most popular to get you started.
Broasted Chicken – this continues to be one of the fastest-growing items you can offer on your menu. Everyone loves a classic and our genuine broasted chicken is certainly that.

Chicken Tenders – another fast-growing item is our Broaster chicken tenders due to their portable format and quick cook times. For a tasty tweak on this chicken staple, opt for our spicy chicken tenders as well.
BBQ/Smoked Meats – with signature recipes and equipment training, Broaster can help you smoke bone-in chicken, ribs, pork shoulder – you name it – to perfection. Choose items from our branded menu program or private label seasonings and rubs to serve your customers authentic, mouthwatering, smoked entrees without the long wait times.
3) Get Branded Signage, Packaging, & Support
As an added bonus, we also support our Broaster operators with branded signage, menu boards with pricing recommendations, to-go packaging, equipment training, and other services. At Broaster Company, we are your one-source solution to all your food service needs.
Ready to Get Your Food Truck Rolling?
Broaster Company has been helping quick-service food establishments get started and stay profitable for decades by catering our turnkey, trademark food programs to your needs as a business owner.
Broaster is a valuable partner in helping you select, fry, and serve mouthwatering broasted chicken or smoked meats that'll keep customers coming back time and time again.
Want to learn more about becoming an operator? Contact Broaster today!