Raising the Bar with New Broaster E-Series Pressure Fryers
E-Series presents new standard for safety and efficiency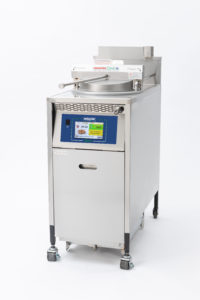 It's time to set a new standard for safe and efficient pressure frying equipment. At Broaster Company, that's precisely what we've accomplished with our newest line of premium pressure fryers: the E-Series.
Featuring a range of innovative features, the Broaster E-Series raises the bar with its intentional design. By enhancing energy-efficiency as well as utilizing smart technology, our E-Series fryers work to greatly reduce or eliminate many of your operational pain points.
Same Great Capacity with Even Greater Efficiency
In an age of rising real estate costs – among many other operational challenges – it's more important than ever to streamline your cooking platforms and find new ways to control costs.
The Broaster E-Series 18 Gas Pressure Fryer – the first in our E-Series line to be released in the coming months – offers the highest energy efficiency rating in its category, rated at 50,000 BTU per hour with a 23% reduction in operating consumption, yet maintains the same capacity as our previous 1800 Pressure Fryer.
Distinctly engineered for high-volumes of food product and quicker turnaround times, our new fryers can cook up to 32 pieces of fresh, bone-in chicken per load in as few as 11-12 minutes without sacrificing quality.
Our proven, round cooking well distributes heat evenly, so you won't get cold spots or uncooked portions of chicken – just a delicious end product that is crispy on the outside and juicy on the inside, every time.
User-Friendly Interface & Smart Technology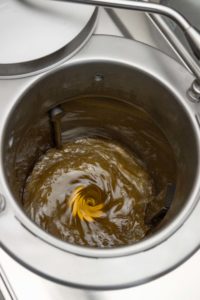 With labor also being an ever-rising challenge in the food service industry, it's incredibly beneficial when you can find ways to eliminate unnecessary cooking and reduce waste. Our new E-Series fryers will help you do both with several key automated features.
Advanced Microprocessor Controller – featuring an easy-to-use touch screen, our E-Series fryers' intuitive interface makes training new employees a much faster process and even offers bilingual programming
Automatic Cycle Start with Lid Closure – simply program your cooking cycle and close the lid. It's as easy as that.
Automatic Controlled Pressure Release at Programmed Time – when the cooking cycle ends, it triggers the release of pressure from within the well without any manual operation
Automatic Oil Filtration Between Cook Cycles – ensure quality and consistency with a quick filtration cycle between each new batch of chicken. Just use the SmartTouch controller to adjust your oil filtration preferences ahead of time and let the equipment work
Advanced Filtering Technology – our new on-board integrated filtration system features a stainless steel filter pan to add reusable filter media capabilities
Advanced Safety Features
Those who operate commercial pressure fryers know that the most common safety concerns stem from two hazards: hot oil and pressure.
This is why Broaster E-Series fryers have a built-in, triple-redundant safety system to protect operators from harm, consisting of a…
Chrome-plated relief valve
Stainless steel splash guard
Single-action, patented cam lock cover system
In terms of oil, the standard setup on our new line of fryers also includes on-board oil replenishment, so employees can easily top off fryer oil, only as needed.
Broaster E-Series Pressure Fryers also feature bulk oil handling capabilities to eliminate the need for employees to carry heavy oil containers or dispose of hot oil. This greatly reduces the risk of injury.
Stay Competitive with New, Innovative E-Series Fryers
If you're ready to produce more chicken more efficiently without sacrificing the same great quality chicken you've come to expect from Broaster, our new E-Series line of fryers will do the trick.
Better yet – the benefits that this top-of-the-line equipment provides can help you stay a step ahead of your competitors and keep customers coming back time and time again for tasty chicken that's crispy on the outside and juicy on the inside. That's been the Broaster difference for 65 years.
To get more information about Broaster E-Series Pressure Fryers, simply fill out our online form today.