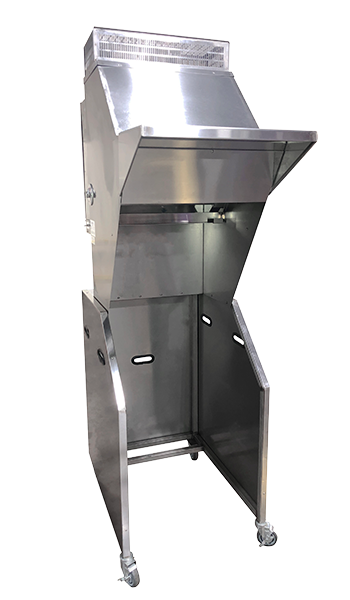 Broaster Ventless Hood System
Ventless hoods clear the air from the cooking fumes, grease, smoke, and odor by using a fan with charcoal filters. Unlike ducted models, these types of range hoods filter the air from odor and smoke and recirculate the clean air back into the kitchen.
CONTACT FOR A QUOTE
Standard Features
Compact and versatile- one-of-a-kind stainless steel hood provides the necessary vapor removal requirements for all current electric models of Broaster® pressure fryers.
Simple to install- eliminates the need for expansive roof modifications and the hassles of dealing with multiple vendors supplying separate hood and electrical systems.
Safe- includes built-in Ansul R-102 fire suppression system with piping, nozzles (appliance and plenum), and conduit routing the fusible link cable through the hood.
Effective- innovative triple-filter system with updraft technology designed to trap grease particles, eliminate condensation, remove smoke and reduce cooking odors.
Safety feature—interlocking start feature does not allow hood and equipment to work separately.
Visual—color coded, lighted alert system included to ensure system is running safely and efficiently.