What is Broaster? Part 1

One-source solution provider for hot foodservice businesses
Broaster Company has been known for its mouth-watering fried chicken for more than 65 years. What makes the company so unique, however, are all of the tools, services and support that surround that scrumptious staple of the American dinner table.
"We are in business to bring solutions to restauranteurs, whether that's a restaurant, bar, convenience store, grocery store, food truck, or other non-traditional foodservice channel," says Greg West, senior vice president of marketing and food innovation. Whatever the case, Broaster Company is a one-source solution provider for any business looking to offer a high-quality, hot food program.
There are four components to our one-source solution.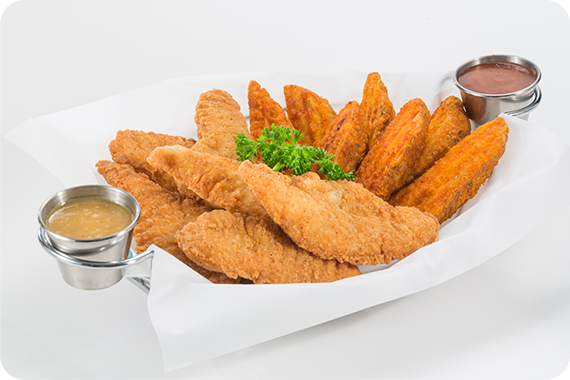 Frozen Foods
Broaster got its start with the traditional 8-piece, bone-in chicken offering. Nowadays, the company also provides bone-in wings, boneless wings, filets, tenders and popcorn chicken, along with an array of proprietary coatings, breadings, marinades and dipping sauces.
Broaster Company's frozen food offerings, known as Broaster Express, has also expanded to include more than just chicken. Broaster provides breaded and beer-battered fish filets, shrimp, corn dogs and burritos. Several side dishes and appetizers are also on the menu, including buttermilk biscuits, mac-n-cheese, baked beans, potato slices and wedges, onion rings, cheese curds, mozzarella sticks and jalapeno poppers. Now Broaster has begun offering yet another American favorite: apple pie.
Kitchen Equipment
Pressure fryers have been at the heart of the company's Broaster Equipment brand since the first model was patented back in 1954. There has been considerable product advancement since then, leading to innovations such as ventless pressure fryers and the new E-series of high-efficiency pressure fryers.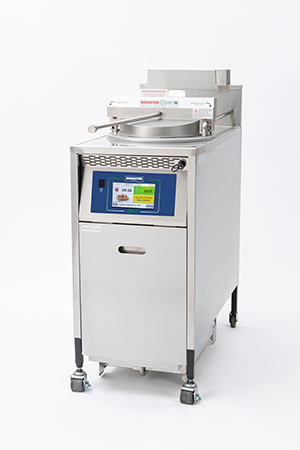 Broaster Equipment has also spread its wings beyond the chicken-frying business. The Smokaroma is a unique pressure cooker that simultaneously smokes a variety of meats. The Instant Burger leverages a unique cooking method to produce juicy burgers in less than a minute. Accessory-type equipment is also available including several items to help operators more efficiently prep and store food, replace oil, etc.
Marketing Programs
Broaster Company's food products and kitchen equipment are the foundation of several trademarked food programs. Genuine Broaster Chicken is ideal for anyone wanting to get into the fried chicken business. Broaster Express is a similar program tailored specifically to convenience stores where kitchen space and staffing are limited. Rock County Smokehouse leverages Broaster's Smokaroma machine to create a real wood-smoked BBQ program for restaurants, bars and even food trucks.
Customized Solutions
For those restauranteurs who want to focus on their own brands, Broaster Company offers customized solutions including rubs, marinades and private-label food products. Broaster's team of culinary and marketing experts are ready to develop tailored solutions for mom-and-pops, chains, and everyone in between.
So as you can see, Broaster Company is about much more than just fried chicken. It's about the ingredients, recipes, equipment, training and support that help a variety of businesses offer high-quality hot food programs.