What is Broaster? Part 2

Manufacturer of innovative kitchen equipment
Broaster Company patented its first pressure fryer back in 1954. Over the next 65-plus years, the company has continually made its pressure fryers better, safer and more efficient. Broaster has also broadened its equipment offering to include a variety of kitchen accessory items, as well as innovative equipment to help capitalize on consumer cravings for burgers and BBQ.
Pressure fryers.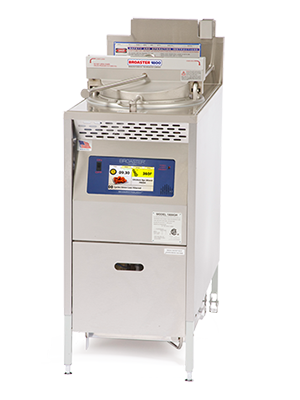 First and foremost, Broaster Equipment continues to lead the industry for pressure fryers, which the company proudly refers to as "broasters".
"Our broasters come in a multitude of sizes to meet various operational needs," says Greg West, senior vice president of marketing and food innovation. The signature product line includes three models: the 1600, 1800 and 2400 Series. Restauranteurs can select the model that provides the production capacity they need, whether that is 16, 32 or 48-64 pieces of bone-in chicken per load.
Regardless of which size broaster is selected, West says the key attribute is always reliability. "Our engineers have developed some of the longest-lasting pressure fryers you will ever find. Plus, they are easy to maintain and service," West says.
Broaster Equipment extended its pressure fryer line in 2020 with its new E-Series. "The innovation here is around energy efficiency," West points out. In fact, data shows that an E-Series pressure fryer can reduce gas energy consumption by roughly 25%. Additionally, cooking oil life can be extended by as many as three days. Finally, labor can be reduced significantly because an E-Series pressure fryer is so much easier to operate, clean and maintain.
Broaster Equipment also offers a ventless countertop fryer. "This broaster is ideal for smaller operations with limited kitchen space," West explains. The self-venting, internal three-stage filter system eliminates the need for an exhaust hood system. It's an ideal solution for convenience stores that need a safe, efficient way to provide real fried food, not something made in an air fryer. "Restaurants like pizza places also like our ventless pressure fryer," West points out. "It gives them a way to offer a few quality fried items without having to make a huge investment in space and equipment."
Smokaroma Pressure Cooker.
Broaster Equipment's Smokaroma represents another innovative extension of its signature pressure fryer. This unit simultaneously pressure-cooks and wood-smokes a variety of meats in considerably less time than traditional smoking.
"Everyone loves smoked meats, except for the time it typically takes to prepare them," West says. The Smokaroma is not typical, to say the least. "You can cook up to 45 pounds of ribs in less than 90 minutes — roughly one-third the time of conventional slow cooking. Plus, with the Smokaroma, you're also enhancing moisture retention and flavor."
The Smokaroma operates similarly to a traditional pressure cooker. The difference is that a smoking tray can be loaded up with your favorite wood, be it mesquite, cherry, apple, etc.
"The Smokaroma does a wonderful job with chicken, ribs, brisket, pork, and other proteins," West says. "Another nice feature is that it is portable and takes up minimal kitchen space. It's just an effective, efficient way to add popular BBQ items to a hot food program."
Instant Burger.
Speaking of popular, a good burger is the perfect menu addition for venues that lack a lot of kitchen space, particularly those that also lack a flattop grill. That's why Broaster Equipment's Instant Burger is ideal for places like bars and convenience stores. Two juicy burgers can be cooked in under a minute. The area around the cooking station doesn't get hot, and there isn't a bunch of grease splattering everywhere. The secret is the unique cooking method that utilizes direct energy transfer. The burger cooks from the inside out, allowing it to cook considerably faster while also retaining all of those succulent juices that make for an amazing burger.

Accessory equipment.
Broaster Equipment offers a variety of solutions to help foodservice businesses operate more efficiently. Broaster's accessory equipment includes motorized breading machines, marinating tubs, prep stations, holding cabinets, dump tables, oil-disposal equipment, and more.
Want to learn more about how Broaster Equipment can help you provide popular hot foods more efficiently and profitably? Visit Broaster Equipment and take a look around.
Click Here for part 3 in our series of What is Broaster?
Schedule an In-Person Demo